About TLAP
Why do you like coming to our school?
Our Values
Values
At TLAP we believe that 'values' are essential to enable us to fulfil our vision.
What are values?
Values are important to guide us to behave in a certain way. We believe in our values and they help us to know how to act so that we can work towards fulfilling our dreams. Our values help us know what is right and wrong, at TLAP we call this our 'moral compass'.
Why are our values important at TLAP?
Our values clearly support our vision, we want each child to display 'Curiosity, Exploration and Discovery' so that they can be the best they can be.
Our values at TLAP are:
Value

Rationale

Family

We recognise that individual families come in many forms. Families share common values, they support one another and help each other to grow. As a school, we are a large interlinked family. We are part of a Trust and together we support:

'One community. Many ideas. Everyone's future'

Brilliance

Brilliance comes in many forms. In whatever task children undertake we want them to aim to give their very best. Through brilliance we can nurture each child's talent so they recognise their potential and understand how they can support others.

Respect

In a diverse world, we all have different views. We want our children to be confident in their views but more importantly show respect for the views of other people. We celebrate difference and a way of achieving this is to show respect to other people's cultures, beliefs, family structures, likes, dislikes etc. Respect is paramount. We seek to see the good in one another and show praise and admiration for their talents and good deeds. Additionally, we respect our environment – be that school, home, our town or the planet. We consider our actions and the impact it has on others.

Independence

Each and every child is a future leader. Leaders work with others but have an insight into what they want to achieve. We want our children to be intrinsically motivated – to work for their own gain and develop their own skills. The world is their oyster and we wish to harness the skills to enable them to succeed.

Courage

Life is full of firsts. It is important that the children feel a sense of bravery to try new things. Courage also encompasses following your values and being true to yourself. It reminds children of the importance of doing the right thing.

Kindness

To ensure children grow with the skills to enable them to support others and encourage each other to achieve, we place great importance on kindness.
Our values are also our house teams. Each child and staff member are assigned a house. We hold many house events throughout the year. Additionally, children are rewarded house points for displaying our values.
Our school values, include British Values of:
Democracy
Rule of Law
Individual liberty
Mutual respect and tolerance of those with different faiths and beliefs
Our History
When did The Langley Academy Primary open?
The Langley Academy Primary opened in September 2015 with 90 Reception pupils. The school increased its intake each year by admitting a further 90 Reception pupils, meaning that from September 2021 it reached its full capacity of 630 pupils, plus nursery.
Why was The Langley Academy Primary established?
The Trustees of The Arbib Education Trust (formerly known as The Langley Academy Trust) had already established a very successful secondary school – The Langley Academy and were keen to open a primary free-school to develop a much needed, outstanding 3-19 education provision in Langley. Through The Langley Academy Primary and The Langley Heritage Primary Academy this vision became a reality.
The aim of The Langley Academy Primary is to provide its pupils with an inspirational curriculum that promotes Curiosity, Exploration and Discovery. This fosters an innate sense of learning, deepens children's knowledge and enables them to become critical thinkers, one of the many skills needed to succeed in an ever-changing 21st century world. Children are recognised as individuals, through our approach we develop pupils' academic and social skills; building their sense of self-believe and developing high aspirations.
Main achievements so far?
From their first day of school, all pupils at The Langley Academy Primary receive a unique experience. This is built on day by day. Each year we welcome a new Reception intake and we watch our pupils progress through school.
September 2016

The Langley Academy Primary moved into its brand new, purpose-built school. It opened its nursery too.

September 2017

The child-centred approach continues into Key Stage 1, children thrive and make links to their prior learning

July 2018

Ofsted visit and grade the school as outstanding in all areas

April 2020

The Langley Academy Primary's YouTube channel opens and provides a range of personalised lessons, specific to our pupils

September 2020

School re-opened to all pupils following Covid lockdown.

Upper Key stage 2 opens.

Child-centred approach to learning continued for all pupils.

Classroom learning linked to remote learning that the children completed at home

April 2021

We recognise the impact of Covid on children's well-being, A larger team of well-being practitioners are now in place. Children are able to access additional emotional support through Place2Be or ELSA (Emotional Literacy Support Assistants).

September 2021

The Langley Academy Primary has children in all year groups: Nursery – Year 6

Staff and pupils are looking forward to collaborative learning experiences through trips and more collaborative learning opportunities.

December 2021

Our pupil leadership programme was launched. Pupils across the school applied to support our many committees:

Curriculum Council
Eco-council
Diversity Committee
House Captains and House Vice-Captains
Librarians
Peer Mentors
Reading buddies
Sports Leaders

September 2022

Our first cohort has transitioned into Year 7. The majority of our pupils have transferred to The Langley Academy, realising the Trust's vision of 'a school for life'.

We continue to provide learning experiences that provide first-hand experiences throughout the school.

A larger SEN team was developed to provide more support to pupils with additional needs.

A digital learning strategy, involving families hiring 1:1 devices is rolled out into Years 4 & 5.

September 2023

We are so proud of the school we are and this year we will continue to embed all the good we do. We look forward to meeting our 9th Reception cohort and developing them into independent learners.

Children will continue to benefit from an enhanced, diverse curriculum. With the support of families, we will continue to offer a range of additional trips and visits.

Our learning takes us virtually anywhere! We continue to embed our digital learning strategy in Key Stage 2 whilst making the most of Virtual Reality.

This is going to be a spectacular year and we look forward to sharing it with you.
Our Building Design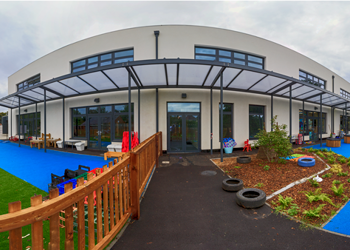 To reflect 21st century learning, The Langley Academy Primary was specifically designed in 2015 to maximise collaboration and support unique teaching styles. The building definitely has the 'wow factor' and encourages pupils, staff and parents alike to be proud of being part of the school.
The school features:
An open plan glass layout to enable the community to unite
The classes in each year group are separated by Acoustic rated curtains, this gives flexibility enabling activities to be taught to 30, 60 or 90 pupils simultaneously
Each year group has an additional 'break out' space, in effect providing a fourth classroom
Cloakrooms for all 30 children are integrated in the classrooms
A purpose built storage unit in each class provides space for technology, classroom storage and trays for each of the 30 pupils
A museum features at the front of the school
There is a cookery room, large hall, small hall with a double ceiling, open plan library and computing room
What is a Free School?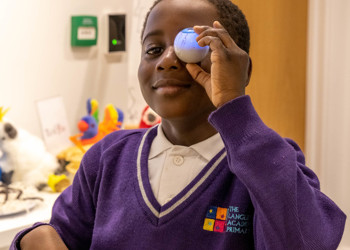 Free-Schools are brand new schools that are funded by the Government but are independently run by their sponsor. Free Schools are set-up by sponsors to fulfil a need in the community with a desire to make a positive difference.
In our case, The Langley Academy Primary was opened to address the projected shortage of primary school places in Slough. Moreover, Trustees of The Arbib Education Trust, were keen to develop a 'school for life', linking primary and secondary education based on the Trust's approach of Museum Learning.
Free-schools are a form of academy, as such they are 'free' from Government constraints, giving them the flexibility to:
Create their own curriculum
Structure their school year and day
Set their own admissions criteria
Decide how to set their own budget
Although free to create their own programmes, Free Schools have to follow a rigorous monitoring process. They are regulated by OFSTED and their performance is closely monitored to assure parents that children are receiving a high standard of education.
Like state schools and academies, Free Schools are free for pupils to attend.