Autumn Term Highlights - Nursery
Back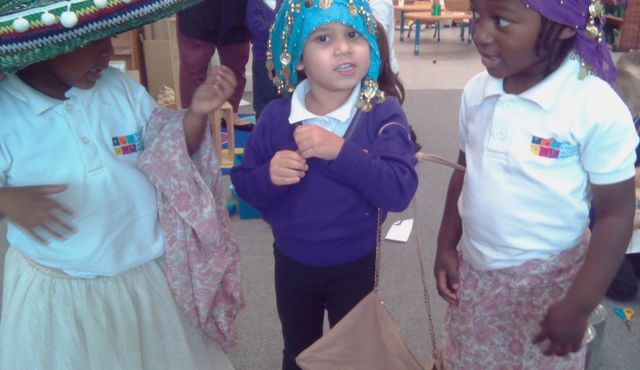 Dec 13, 2021
Children in Nursery have had an amazing first term, and we can't believe how quickly it has gone. The children have settled tremendously well and have formed some solid friendships. They now understand the expectations of Nursery and have all grown in confidence and independence. We have enjoyed listening to all our stories and have learnt some wonderful new vocab. We started off with our text 'We are Family' and it was amazing to hear the children discuss who is in their family and what they mean to them. Next, was 'All are Welcome' where the children quickly understood that it doesn't matter who you are, what colour your skin is, or what you like, we can all do the same things and be whatever we want to be. Some children were also able to tell the adults what the word 'diversity' means!
Autumn 2 came with the books 'Free-Range Freddy' and 'The Squirrels who Squabbled'. The children thoroughly enjoyed Free-Range Freddy and thought it was great how he was different and in the end all the other chickens started being more like him. This led to discussions about how it is good to like different things to our friends, as if we were all the same or liked all the same things, it would be boring! The children made their own chickens using feathers and built their own nests and one big nest outside using sticks and leaves.
In PHSE we have been learning how we need to be kind friends and help each other. We discussed how some people need extra help with certain things and if we help them, we can teach them how to do it. We have also discussed our 'emotions'. We learnt how it is ok to feel angry, as we all feel angry sometimes. However, we need to understand that it is 'how' we deal with that anger. We came up with spending time on our own to calm down, instead of hurting someone, or to talk to an adult about how you are feeling.
During free flow the children have participated in many activities and it was been great to watch the children, who normally don't like getting messy, enjoying the messy activities too! The staff have enjoyed extending the children's learning with their interests. These have included making their own fruit salad using knives and learning how to cut safely, cooking, building dens, dressing up and doing a fashion show around the school, making a shop and writing price tickets, making playdough and then writing instructions so their friends know how to make it.
All the staff hope you have a fantastic Christmas break, enjoy your time with your families and stay safe.